Specializing in Neighbor Noise Abatement
Based in Manhattan ... Serving the World
Combining personal service, acoustics know-how, and the most advanced technology to meet your noise control needs.
NEIGHBOR NOISE — Heard Enough?
Entry Doors are often an issue for intruding noise, privacy and barking dogs on either side of your doorway. Irritants that are transferred by air like odors, smoke and other potentially offensive things are common in apartment buildings. City Soundproofing can substantially reduce all of these and more with an effective installation of Perimeter Seals and an Automatic Door Bottom at an affordable price.
This email address is being protected from spambots. You need JavaScript enabled to view it. to find a solution to your noise problem, or for a list of references in the tri-state area.
CITY SOUNDPROOFING IN THE NEWS
Soundproofing for Apartments | House Method, October 13, 2017
The first step in reducing noise is closing up gaps, says Mason Wyatt of City Soundproofing "The catch phrase to remember is, "Where air goes, noise goes. Seal up anything you can."
READ THE ARTICLE HERE».
The Cooperator New York interviews City Soundproofing's Mason Wyatt: "Can't Deal With the Neighbor's Kids Upstairs? Then Soundproof!"
READ THE ARTICLE HERE».
City Soundproofing's Mason Wyatt was featured in the New York Times' article, In Urban War for Peace and Quiet, Soundproofers Are Busier Than Ever.
READ THE ARTICLE HERE».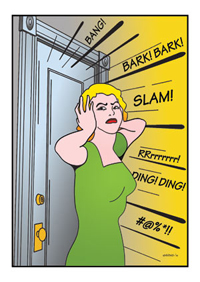 Noise Control, Acoustical Consultation and Design, Acoustical Materials and Acoustical Material Specification for :
Supplying Acoustic Products by QWYATT, Acoustics First, Acoustic Systems, Pemko, Soundown, PAC International and Pinta
Don't miss the latest idea in QWYATT technology -Silent Pictures™ Acoustic Art Wall Panels